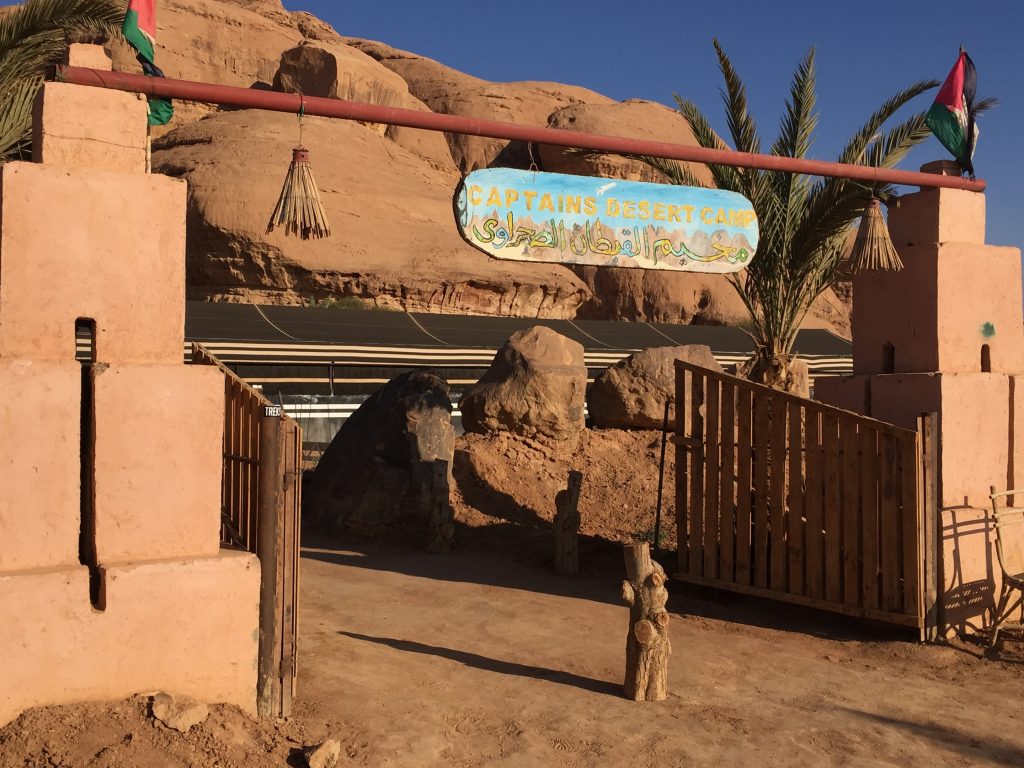 We ended Day 4 of our pilgrimage Bedouin-style with an overnight stay at Captain's Desert Camp on the fringe of Wadi Rum.  This desert camp of tents, some individual and some multi-room, was perched at the base of a large outcrop of rock.  An oasis of sorts, complete with palm trees, it offers an interesting type of accommodation quite different from the fine hotels we had been staying in.
I've certainly stayed in worse places, less comfortable places, and less safe places than this, so I had no qualms about this adventure.
Although technically a tent, my room was quiet and comfortable.  My rest was only interrupted by a wandering pack of barking dogs that succeeded in waking most of the guests, and by the Muslim prayers that began at sunrise in the prayer room next door.  A very interesting experience!
Our dinner that night was in the large open-sided dining tent.  Local food of mixed grilled meats and vegetables, hummus, salads, and flatbread.  These types of meal sat very well with me – nothing processed about them.
There weren't too many other guests there that night but nonetheless we were treated to live music and hookahs.
There might also have been some wine and green sambucca in one of the rooms, but what happens in a Bedouin tent in the middle of Wadi Rum stays in a Bedouin tent in the middle of Wadi Rum.
Next up:  A sunrise, a camel, and me.