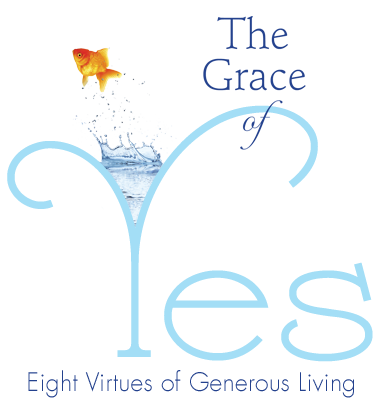 If you're a regular follower of this blog, you know doubt realize that I've hit a snag in my posts lately.  It's a bit hard for me to put the reasons why into words, but I'll try.
A couple of months ago I started a new career as the executive director for two non-profit organizations.  This is the first secular job I've had after working for the Catholic Church, in one way or another, for more than 14 years.
It's knocked me back on my heels somewhat as I try to adjust to this new reality.   I don't regret the decisions that have placed me here, and I'm enjoying learning many new skills and brushing up on some old ones, but there are struggles. I just haven't had any inspiration to write on the blog lately.
A big part of this feeling is that I'm finding it much harder to find the stillness I need for discerning what God is calling me to in this here and now.
The timing of Lisa Hendey's latest book, The Grace of Yes – Eight Virtues for Generous Living, couldn't really be any better for me, personally.
Since starting my new career, I have to confess that I've been phoning it in, spiritually.  And it hurts.  I've been attending Mass and doing my best to pray when I get up in the morning and when I go to bed, but I have to admit that it's been … lacking.
I started reading The Grace of Yes a couple of days ago and I'm not sure I can explain the effect it has had on me.  The spiritual desolation that I had worked myself into the past couple of months has turned the corner toward a new hope and a new spirit of consolation.   Yes, that sounds pretty sappy, but all I can say is this book has what I needed to hear.  Lisa gets what it's all about.
The simple "Yes" of deciding to sit down with Lisa's book has in just the first few chapters given me a bounty of grace when I sorely needed it. Is that more sappiness?  What can I say?
I can hardly wait to read more of it.  The Grace of Yes is a book full of honest reflections on life, relationships, career, and all the chances to say "Yes" to what God calls us to on a daily basis.  I know that anyone who reads it will find themselves in this book in some way.
Lisa wrote about me in the chapter called "The Grace of No."   Two years ago I decided to go to Papua New Guinea as a lay missionary teacher at a small diocesan seminary.  My "yes" to become a missionary came with the need to say "no" to quite a number of things as well.  I'll let you read the chapter for yourself, but those experiences taught me a great deal about myself and that there is also grace to be found when saying "no".
When I wake up in the morning, I like to prayerfully ask God, "What are you asking of me today?"
I think I might amend that and start asking Him, "Help me say yes to the graces You will offer me today."
Please pick up a copy of The Grace of Yes – Eight Virtues for Generous Living.  If you'll open yourself up to what you find in it, you won't be disappointed.