This slideshow requires JavaScript.
Every once in awhile …  ok, every three or four months … I have to hit the road.
ROADTRIP!!!
My aunt has told us more than once that being Irish means having a bit of the gypsy spirit ingrained in your make up.  A genetic disposition to get up and go somewhere.  To see someplace other than right here.
For me, it has to be a road trip.  Getting on a plane does not satiate the feeling.  Only putting foot to the ground, or pedal to the metal, and seeing the world from earth level, does the trick.
The open road is, for me, a sure way of clearing the mind, listening to the voice of your soul, and perceiving a broader perception of your life and circumstances.  A cathedral of the wide open spaces.
A few days ago, I gave in to the urge and took one last roadtrip for the 2014.  I had no definite plan in mind, no specific destination firmly rooted, just a desire to touch base.
So, I packed a bag, grabbed some bottled water, loaded up the car and headed away.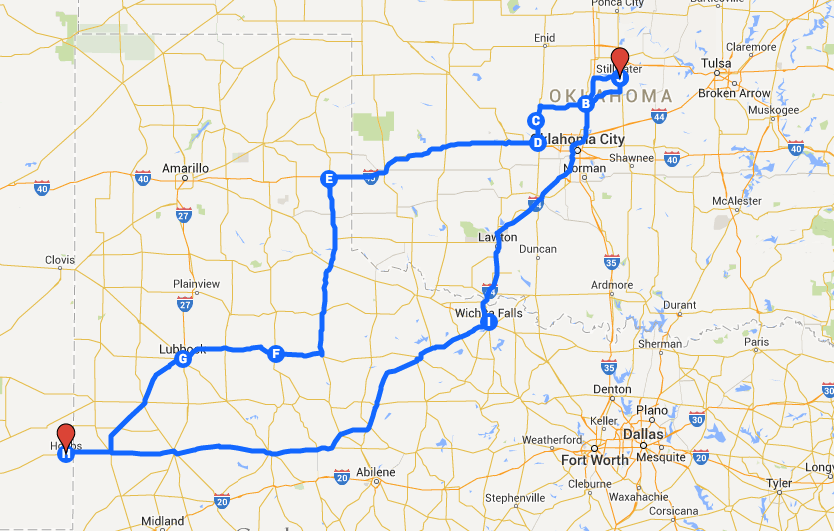 As you can see from the route map, I meandered around for a bit before finding myself in Shamrock, Texas.
On the way I passed through:
Guthrie, OK – first state capital of Oklahoma and very quaintly Victorian
Okarche, OK – birthplace and burial site of Fr. Stanley Rother.  His cause for canonization is still ongoing.  You can read more about his from this 2011 post.
Clinton, OK – home of the National Route 66 Museum.  I was really hoping to visit this but it was closed for the holidays.
Shamrock, TX – An oasis on I-40 that nearly everyone going east or west goes through.  I nearly turned around here.  It was getting late in the day and my commitment was waning.  Yet, the roadtrip urge had not been satisfied.  So onward I went.
At this point, I determined that I really wanted to visit Hobbs, New Mexico.  "Where?", you ask.
Hobbs is an oilfield and ranching town perched on the eastern most border of New Mexico in Lea County.  I was born there, moved away, and then moved back in time to finish 9th grade and attend Hobbs High School.
I'm not sure my family appreciates the affinity I have for this dusty mostly blue-collar town.  Yet, every few years I feel the urge to touch base with this town and visit what was a very important part of my upbringing.  It's where I learned to be a good student, where I learned to really appreciate being in band, where I learned to drive, where I learned the value of working hard.  And much more …
So off to Hobbs I go.  Shamrock to Childress through Lubbock via Crosbyton and Idalou.  Then on to Brownfield, Seagraves, Seminole, and finally crossing the border to Hobbs.
I arrived, visited some favorite sites, ate some Mexican food, visited the church where I was baptized, watched the first game of the annual Hobbs Holiday Basketball Tournament, toured around some more, and then headed home.  I would have stayed longer, but it wasn't in the cards this time.
The weather forecast portended ice, snow and frigid weather.  As much as I enjoyed being on the road, I didn't have the time to get stuck there or anywhere for too long.
I drove through the night, arriving back in Stillwater after 1am.  A thousand mile 2-day trip that began mostly on a whim.
So, what was this all about?
Hours on the road, mostly free from the distractions that keep me from my inner thoughts.
A visit to the home of a missionary and martyred priest who I admire.
Touching base with a place that I called home and have fond memories of.
And most of all, alleviating for a time the wanderlust that calls to me.
Anyone want to join me for the next adventure?    I expect it will hit me again about springtime!