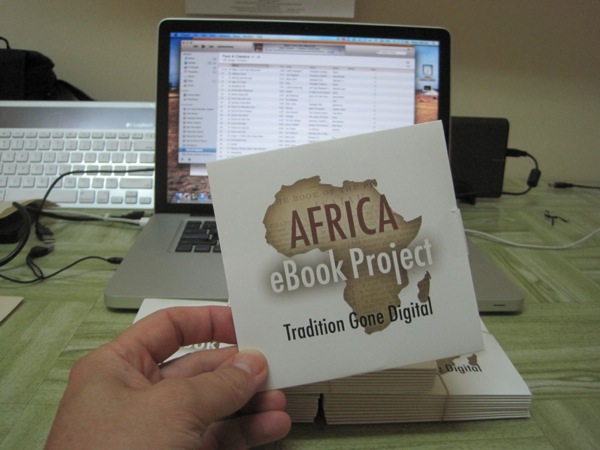 A few days ago, I received another package in the mail!  This one contained 50 copies of the terrific Africa eBook Project CD, created by my friend Brandon Vogt and his many collaborators, which include notable organizations such as:
New Advent
Lighthouse Catholic Media
Word on Fire
Our Sunday Visitor
Aquinas & More Catholic Goods
Last year, Brandon had the terrific idea of creating a digital library of ebooks, Church documents, historical writings, and more, that would be useful for seminarians, particularly those in Africa who lack ready access to adequate libraries or the internet.
He used his network of Catholic media colleagues to gather the content, crowd sourced the online Catholic community of friends for funding assistance, and the CDs, pictured above, were produced and distributed.  A great example of collaboration in Catholic media and the power of social networking.
Shortly after arriving in PNG, I wrote to Brandon to ask about the project and to see if it might be possible to get some copies of the CD for the seminarians here.
In no time, voila!  Through the mysterious workings of a USPS Priority Mail Flat Rate Box, the CDs arrived in pristine condition and ready for use.
Copies are now being carried by Br. Patrick to the seminary in Port Moresby, and are being perused by the staff here at St. Fidelis.  As the occasions arise, I'll be sending copies  to other parts of the country too.  I'm sure they won't mind that PNG is not in Africa!
The generosity of Brandon and everyone who contributed to the success of his Africa eBook Project is very much appreciated here in Papua New Guinea too, and will no doubt have a beneficial impact on the studies of this generation of seminarians.  Be sure to visit Africaebooks.com to learn more about this project and those who contributed.
THANK YOU BRANDON!