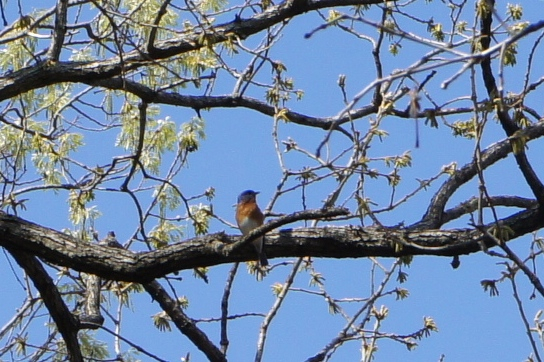 This may seem a bit weird, but I guess I've turned into an amateur birder of sorts.   While working up at my family's lake cabin today, I caught site of several new birds flitting from tree to tree.
Although they were singing joyfully (queedling?) , they were rather shy and hard to approach.  I managed to get a shot of one of them high up in the trees.   I'm glad that I had my good camera with me, or cropping it down to what you see above would have been impossible.
Lo and behold, these are Eastern Bluebirds!  My grandmother told me once many years ago that these were her favorites but I've never seen any before.   I'm really glad that these little guys came to hang out today.  It was quite fun watching them.
You can see better photos and learn more about these guys at http://www.birdsofoklahoma.net/Bluebd05.htm
The plans for nesting boxes that I found here look pretty easy.  I may have to build a couple and see if anyone moves in.