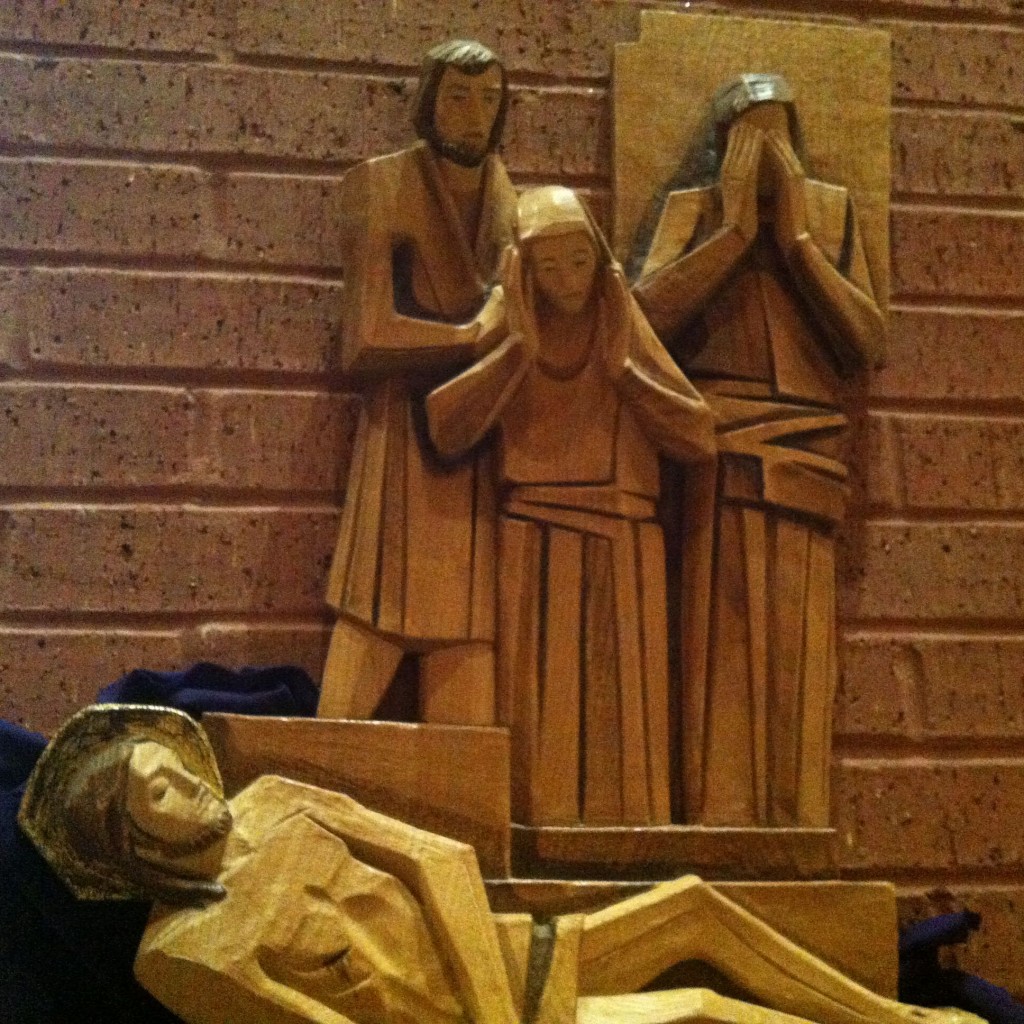 This week's photo challenge from dailypost.wordpress.com is "Threshold."   The description they give is:
A threshold is a point of entering; that point just before a new beginning — that split-second moment in time, full of anticipation. All the hard work is over; relief is palpable.
I really didn't know what to do with this challenge.  My current day-to-day routine doesn't really lend itself to much photographic creativity, so I pondered it until Sunday evening when I attended Mass at my parish.  I sat in a different place than I usually do, so the procession to receive Holy Communion took me on a different path, past the Church's hand carved Stations of the Cross, along the western wall of the Church.
It was a rare opportunity to see the Stations up close and to have a few seconds of contemplation with each.  The 14th station, depicted above, of Christ being laid in the Tomb really speaks to me.  It's emotional and raw and in a way that I hope meets the definition of "threshold" given above.
An evangelical church that I pass each day on my drive to work currently has this on its marquee:
"What began with a tree ended with a tree."
The phrase has bugged me all week because it is NOT the whole story.  It's not even the end of the story.  The marquee recalls on one hand  the Tree of Knowledge in the Garden of Eden, source of the "apple" which caused man's descent into sin, and,  on the other hand, it brings forth the image of the tree from which Christ's crucifix was made.
It over simplifies the enormity of Christ's life and death and overlooks the critical need for His Resurrection.   Christ removed from the cross and laid in the Tomb, as recounted in the 14th Station, is in this instant of reflection, a threshold for what had to happen after the Crucifixion to finish Christ's mission on earth – proving that death is not the end for Him or us.
I took photos of all the Stations after Mass that evening.  Not the best photos to be sure, but not bad for a little meditation.
This slideshow requires JavaScript.