I'm back with another try at the Weekly Photo Challenge from dailypost.wordpress.com.  This week the challenge is "From Lines to Patterns."
From lines to patterns. We see lines and patterns in the world around us, in nature and things man-made. Sometimes we don't realize they're there: on the street, across the walls, up in the sky, and along the ground on which we walk.

Today's challenge is inspired by Evan Zelermyer's stunning urban, abstract, and architectural images from his "Shape, Line, Texture, Pattern" post published earlier this week. I'd love to see your interpretations of these elements, so grab your camera, get outside, and snap a great shot of shapes or lines that you stumble upon, or a cool texture or pattern that catches your eye.
The photo you see above, attached to this post, was taken at last weekend's Redman Triathlon, held in Oklahoma City. What you see is part of the corridor that lead from the biking transition area onto the marathon course.  I thought the shadows through the plastic fencing, as the setting sun cast shadows through it, was an interesting pattern.
I was in OKC with my friend Mark Steichen to encourage my godson Jon Mills as he competed in his first "iron-distance" (I hope I used the term correctly) triathlon, a crazy 2.4 mile swim,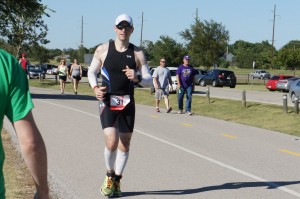 followed by a 112 mile bike ride, followed by a full 26.2 mile marathon.  It was terrific to be there with Jon's family and friends to cheer him on, on a beautiful late summer day.
Jon has been such an inspiration to me.  I met him during my first years as a campus minister at the University of Tulsa, where he was a student.  Over the years it's been my privilege to see Jon grow in so many ways, including tackling the rigors of medical school, getting married and starting a wonderful family.   Jon was my volunteer swim coach for a few years as I tried to improve my skills (i.e. not drown), and he allowed me the honor of being his sponsor when he joined the Church.
So even though the photo of the shadow lines is really nothing special, it symbolizes for me how the lines and lives of people crisscross over time.