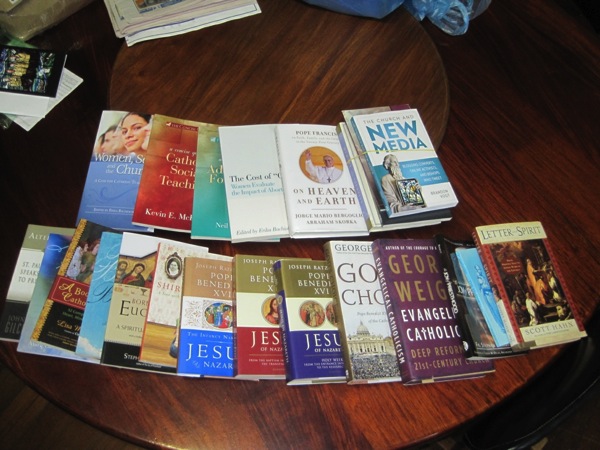 What a treat it was to receive a new Box of Treasures in the mail!
A load of new books from my good friend Pat Gohn covering a wide range of topics that will really come in handy with the students.  I was really glad to see a number of books on priesthood and women's issues.
Pat also included her own new book, "Bold, Beautiful and Bodacious."  I was hoping that she would include a copy as I've been wanting to read it.  I've just finished the Introduction and since I know Pat well, can read it with her own voice in my head.  A little weird, but comforting too.
My friend Brandon Vogt also included a few books in the shipment.  I don't know how that came about, but he also included his book, "The Church and New Media," a topic near to my heart and something that the Church in PNG needs to embrace more.
The library here at St. Fidelis has some excellent material in it, but it does lack some of the more modern publications by writers such as Scott Hahn, George Weigel, Pope Benedict XVI and others.  Fr. Cyril was particularly interested in seeing the second and third books in Pope Benedict's Jesus series.
What a terrific gift to send to St. Fidelis!
Many thanks to Pat and Brandon for their contribution to the education of PNG's budding seminarians!