Early Thursday morning, about 4am PNG time, I hear Br. Jim's quick steps along the friary veranda.
"White smoke!  We got white smoke!", he calls out.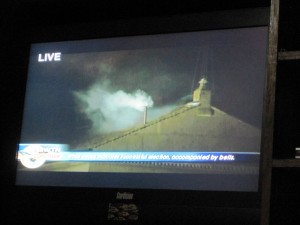 I knew that he had planned to get up at 3am to check the results of the evening votes of the conclave (Wednesday Rome time), so it wasn't unexpected to hear some sort of report from him.
So, I jumped out of bed and made my way over to our TV room, soon joined by Nate, our other CapCorps volunteer, and Fr. Peter Meis, the Capuchin Vice Provincial who happened to be visiting St. Fidelis for a few days.
Much like the rest of the world, we watched the white smoke pouring from the Sistine Chapel and the crowd gathering in St. Peter's Square, anxious to know who the cardinals had elected as the new pope.
When the announcement was made from the loggia of St. Peter's Basilica, we didn't quite hear it clearly, except for the name "Francis."  We had to wait for some more minutes until the new pope came forward.
It was thrilling to learn that a cardinal from the Americas had been chosen and someone who has had such connection to the poor of his country.  The Capuchin Franciscans here were pleased and excited to know that he had chosen "Francis."
Not more than 45 minutes after Pope Francis was introduced to Rome and the world, we joined the seminarians for their 6am Morning Prayer and Mass, and were able to inform them of the election of their new pope.
Although we didn't have much information at that point, the students were understandably excited and  cornered us after Mass, full of questions:
Where is he from?
What is he like?
Is he white or black?
Why doesn't PNG have a cardinal?
Wasn't this a quick election?
Will he visit PNG?
Later that day, I had the opportunity to show the Propaedeutic students the first episode of Fr. Robert Barron's "Catholicism" series.  If you're familiar with that episode, "Amazed and Afraid", there's a scene near the end from the election of Pope Benedict XVI.   It was very fortunate to be able to share that particular episode with the students and to explain that that was very similar to what had just happened in Rome with our new Pope Francis.
So like the rest of the Catholic world, we're all learning and sharing everything we can of our new pontiff.
Just as I have very vivid memories of the last days of Blessed John Paul II and the election of Pope Benedict, I'll always remember waiting for and watching the election of Pope Francis from our little outpost on the north coast of Papua New Guinea.