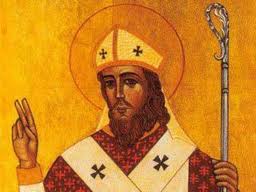 The other day, as I was flipping around in the breviary, I ran across a treatise on the Trinity written by St. Hillary, a Doctor of the Church and Bishop of Poitiers.
I thought the last paragraph would make a good prayer for those of us using new media for evangelization.
Let me know what you think.
[…] God the Father, bestow on us the right use of terms, give light to our understanding and an agreeable style to our words, grant us loyalty to the truth.  Grant that what we believe we may also speak, about you the one God the Father, and the one Lord Jesus Christ, as we learn from the apostles and prophets, and that we may succeed now in proclaiming against the denial of the heretics that you are God, yet not alone, and in preaching Jesus Christ as true and no false God.
(De Trin 1:37-38 – St. Hillary)