I have flown hundreds of times, more than I could count; across the country, to Central and South America, and to Europe. I've learned see airline travel as sort of a pipe that you enter at one end and have to just wait and endure what comes along until it spits you out at the other end.
There's always a measure of frustration of some sort, either with security checks, bag fees, bad food, weather delays, crying children, or … something.
All previous experiences pale in comparison to my trip to Madang. The actual flying itself went off as best could be expected under the circumstances. It was the experiences on the ground at most of the airports that became an unforeseen type of torture for me.
I left Tulsa at about noon on December 18th and finally touched down in Madang, Papua New Guinea just after noon on December 22nd. Four days of traveling that felt more like six. I was never so happy as when I was finally spat out of the pipe in Madang, only 24 hours later than planned.
You might not find this interesting, but for my own recollection, here's a rundown of my journey.
Tulsa Airport – after my farewell to Alex, I passed through security, and walked down the concourse like I've done so many times before. Weirdly, this didn't feel all that different from all the others.
Boarded a United Express Embraer RJ135 for a 90 minute flight to Houston. This is one of those small jets with very limited storage space. I'm already questioning the size and weight of my carryon bag and backpack. Nonetheless, the flight goes off as scheduled. As I watched Tulsa recede into the distance, I was already praying for a safe return to my home city at some date in the future.
Arriving at Houston IAH airport, I had to pass through the infamous Terminal C, the one that I had to spend 48 hours in during a tropical storm in 2000. My previous worse travel experience, this was a premonition of things to come.
Boarded a brand new and pristine United Boeing 787 for the next leg of my journey, Houston to Los Angeles. This plane is awesome! So comfortable and has a terrific AV system and a large selection of programs to watch. These were the best 3 ½ hours of my trip. The only downside was that there was no food served unless bought for an extravagant price. Luckily, I had some snacks to tie me over.
Landing at LAX, I entered a land of confusion, delays, and disbelief that things could possibly be this unorganized.
My next flight was on Air Pacific from LAX to Nadi Fiji. A recent typhoon near Fiji had thrown Air Pacific into utter chaos. My flight #911 was listed on the departure monitors twice. I finally figured out that the 911 leaving about the time I was scheduled to leave, was actually the flight for December 17th, which had been delayed 24 hours because of the typhoon. My flight 911 had been postponed until the morning of the 19th.
I made my first mistake here by not taking the free hotel room being offered, opting instead to stand in line at Air Pacific to see if I could get on a different flight to Fiji.
After 2 hours in line, I was booked on another Air Pacific flight to Nadi, a charter that they had arranged to help with the backlog of passengers. I was told that it was leaving soon and that I should get to the gate as soon as possible.
Have you ever seen the security line at the international terminal at LAX? Horribly in need of a renovation and modernization. Another frustrating 1 ½ hours in line, anxious to know if I would make the flight.
Eventually, I make it through security and discovered that there was been a gate change, just around the corner from the original gate. And therefore, another hour delay for the charter flight to leave. So, really no need to rush at all.
The charter was handled by Ajax Air, a company that doesn't fly it's own flights, but flies charters for other airlines in situations such as these.
Our plane was an ancient Boeing 747 that looked to be 1980's original. Everything was a dingy tan color, all very well used and with a minimal AV system. It was going to be a very long and uncomfortable flight to Fiji.
By this time I was so completely exhausted that I think I slept about 5 hours and I have to say the food was OK for what it was.
We arrived in Fiji after about 10 ½ hours from LAX. As the 747 bounced down the runway during a pretty hard landing, I seriously wondered if this plane had seen it's last flight.
Air Pacific doubled-down on the LAX experience with the situation we found in Nadi.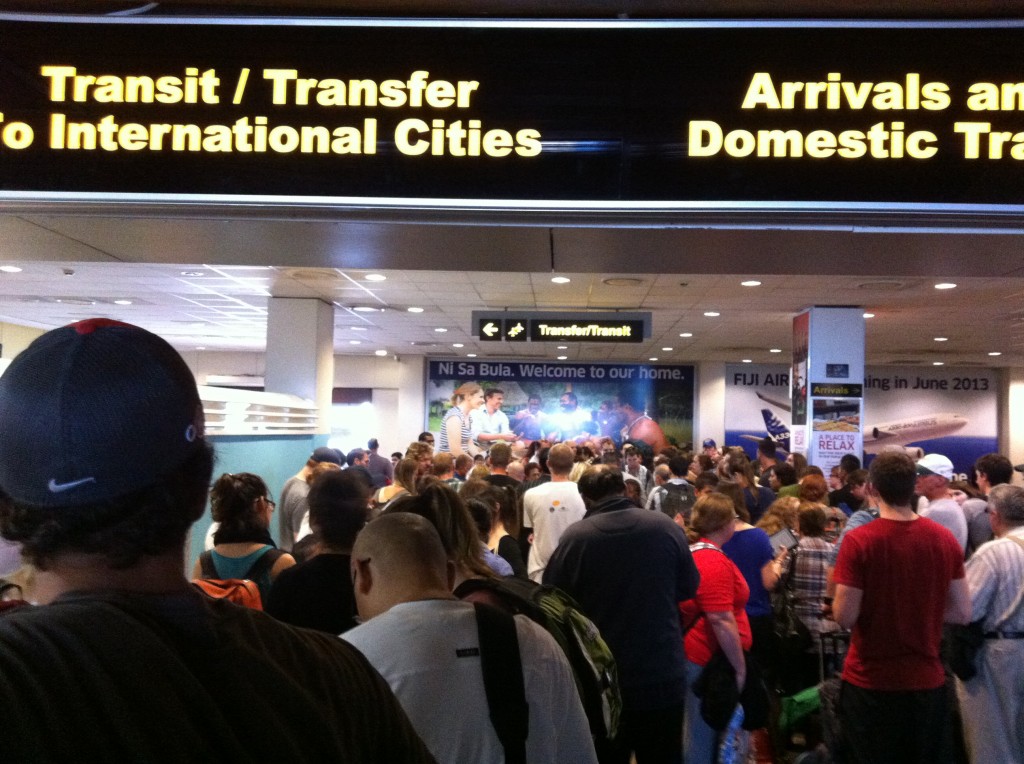 I can only guess that this chartered flight, added at the last minute, took their staff in Nadi by surprise.  None of the passengers transiting to other international flights, including me, had boarding passengers for their next flights.
The International Transit desk, with just two agents, was tasked with rebooking several hundred passengers.
Three hours stuck in the "no man's land" of the arrival area, neither in Fiji nor in the departure terminal, there was no food, drink or bathrooms available. This was the first time that I thought passengers might riot.
The agents tried to organize the passengers by the next departing flights with only minimal success.  My ticket was for Brisbane, Australia.  Most of the passengers were trying to get to either Syndey or Melbourne.  Thus, I was of a lower priority.
I finally made it to the Transit Desk, one of the last passengers to be served.  It was then when the frazzled but apologetic agent informed me that I had no Australian ETA visa.  Since my arrangements were to fly to Brisbane, spend the night at a local hotel, and then fly from Brisbane to Port Moresby the next day, I had to enter Australia as a tourist.  This requires a tourist visa (aka ETA).
I could file for the visa online very quickly.  Unfortunately, wireless internet was only available in the departure terminal, which I wasn't allowed to enter without a boarding pass.  Of course I couldn't get the boarding pass until I had the ETA.
Luckily, I was able to get Margaret McIntyre, the CapCorps volunteer coordinator on the phone and she was able to get someone in the US to file for the ETA.  About 30 minutes later, all was well and I was given my boarding pass.  I still don't know if I called Margaret in the middle of the night or not.  Either way, she was a trooper in helping me get this done.
By this time, I had missed my original flight from Nadi to Brisbane, so I was booked on an Air Pacific flight to Sydney, with a Qantas connection to Brisbane.  Sydney would then become the furthest south on the planet that I've every traveled.
I think I made a comment to the transit agent about being really hungry, which I was, so she happily gifted me a $20 voucher for food in the departure terminal.
With only about 45 minutes until boarding the flight to Sydney, I made a dash to a food kiosk and ordered a piece of grilled chicken, French fries, and an orange soda called Sprint.  Of course it arrived just as boarding was beginning, so I was forced to wolf it down quickly.  Still, it was rather wonderful at this point.
Oddly, I don't remember much about the flight to Sydney.  I know it was a large plane, probably a modern 747.  I was so dazed at this point that I barely remember seeing glimpses of Sydney Harbor and it's famous bridge as we landed.
The transit agent in Nadi told me that they would "try to find my luggage and have it transferred to the Sydney flight."  So, I wasn't surprised to find it missing when I tried to pick it up for Australian Customs.
I have never learned to plan for this possibility.  While my carryon bag had toiletries, I had not packed any fresh clothes, an oversight that would be important in the next few days.
Looking rather lost in baggage claim, I found an Aussie baggage agent who was absolutely great in helping me file a report on my lost bags.  Although it made going through customs quite easy, I was convinced that I wouldn't see my bags or all my clothing again.
After a short wait, I boarded my flight to Brisbane.  So uneventful at this point that I really don't remember much about it.
Arriving in Brisbane, my plan was to take a taxi to the nearby Comfort Inn, where a reservation has been made for me.
I remembered to get some Australian dollars for this, so I was off relatively concern free.  I've always had concerns about taxi rides in unfamiliar cities.  Nothing bad has happened yet, but you hear stories.
Arriving at the hotel, dead on my feet and having trouble putting words together, I learned that the hotel had no record of my reservation.
The hotel had never confirmed the reservation, made through Hotels.com, as they were fully booked.  Hotels.com dropped ball by not making other arrangements for me and passing that information along to the Comfort Inn.
As I staggered about the lobby of the hotel, the desk clerk attempted to get things straightened out.  Ultimately, the clerk heroically gave up the room she had set aside for her use so I could have a place to sleep.  She volunteered to sleep on a couch in the back office.  This was the second time today that an Aussie had come to my rescue.  When I can figure out how, I'm going to send a message to Choice Hotels in Australia and tell them about the great service of their clerk Johanna in Brisbane.
After a hot shower, a little TV, and a few hours sleep, I was ready to tackle the final legs of my trip.  Or so I thought.
I arrived at the Brisbane airport, hungry and jet lagged.  Breakfast was a lemon chicken sandwich, with salt and vinegar "crisps" from Subway, and a mocha coffee from the barista next door.  That pretty much used up the remaining Australian money that I had, but it was enough.
The free internet at the airport was a nice find.  It may have been the last time I was online, up to the time of this writing, or about a week ago.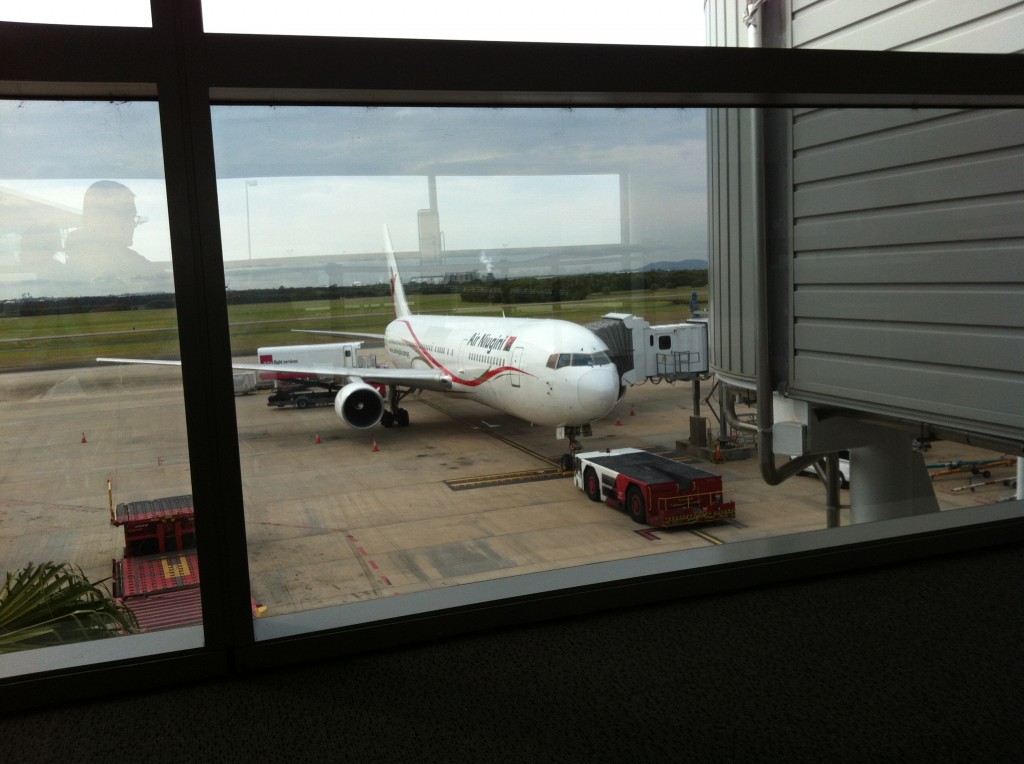 The next flight was Air Niugini from Brisbane to Port Moresby, just a few hours away, with a 1 hour flight from Port Moresby to Madang as the last step.
Oh, it should have been easy, but it wasn't.  A cruel introduction and a reminder of what third world travel is all about.  I should have steeled myself better for this, but I was naïve.
The flight to Port Moresby really wasn't that bad.  Some decent food and a movie, as I recall.  Sitting on an aisle, I didn't get to see much of PNG as we approached, but the flight was relatively comfortable.
We arrived at the terminal, passed through immigration and customs, and found myself in the terminal with absolutely no idea what to do next.
I had a couple of hours to wait for my flight to Madang but I had to ask around to find out where the gate was.  I discovered that the international terminal only has information about international flights.  It does not have any information about domestic flights, or the fact that domestic flights fly out of an adjacent terminal.
"Go outside, turn right and follow the sidewalk to the next building, where you'll find the domestic terminal."  Right, that's just what I'll do.
Except, I have to fight my way through an unruly crowd trying to enter the terminal, through a cordon of heavily armed security guards, through a line of people waiting to go through metal detectors, and finally into the terminal.
Since I have a boarding pass, I bypass all the check-in counters, another security checkpoint, another set of scanners and finally find myself in the single departure area for all Air Niugini domestic flights.
This place was chaos!  Full of people waiting for flights, rows upon rows of dirty and dingy furniture, unintelligible announcements screamed through over modulated microphones, and very little accurate information being supplied to passengers.
I arrived in Port Moresby around 12:30pm.  My flight to Madang was scheduled for 3:30 pm.   I probably arrived in the departure area around 1:15 or so.
And the waiting began.  I struck up conversations with some ex-pats waiting to go to Madang.  A great conversation with a Chinese Australian college student.   But then flights started to get cancelled.  Not a good thing for a small airline with limited numbers of aircraft.
It doesn't look good for our hero when the flight to Madang is cancelled.  We are advised to go to Customer Service where we will be given a voucher for a hotel and meals for the night.  We will be rebooked on the  next day's morning flight to Madang.
So, off we all rush to Customer Service.  Another totally unorganized and overwhelmed operation.  After several hours of waiting, we were told that they were going to put on another flight that afternoon, leaving at 6pm for Madang.  So we all left the line, headed over to one of the ticket counters where they were rebooking passengers.  Things looked good.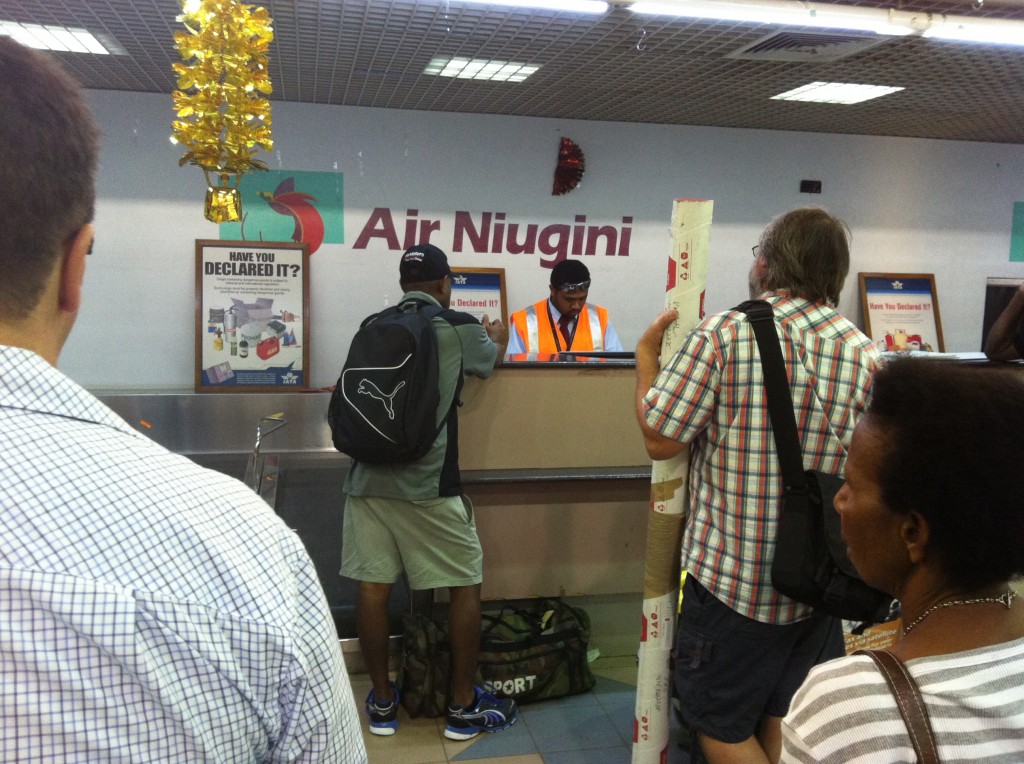 After making it through ticketing, back through security and scanners, and into the departure area, we shortly learned that our flight to Madang had actually been cancelled again.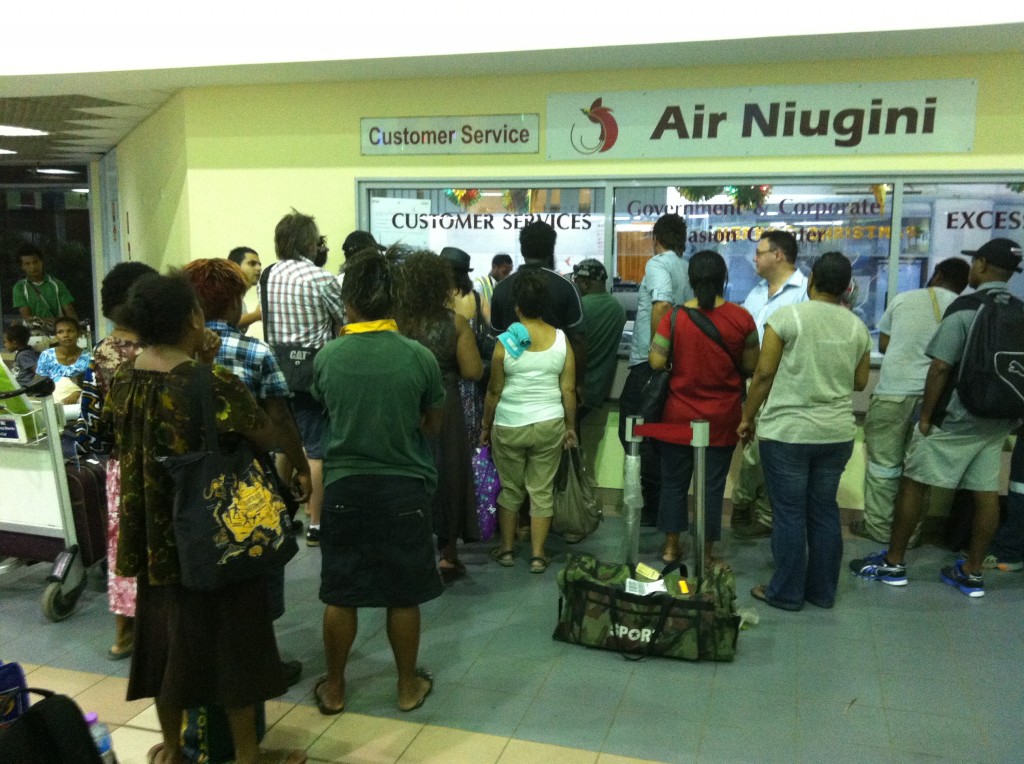 So, we all headed back to Customer Service, our little band of ex-pats now bonding quite well with this shared experience.
Finally, with vouchers in hand, I boarded a hotel shuttle for the Gateway Hotel for free food and an overnight stay.  I checked into the hotel about 8pm after being at the airport for the best part of 8 hours.
The Gateway was a nice respite from a hard day.  The restaurant had a Chinese buffet with some decent food on it.  I thought about staying in the bar for a little while for a beer, but gave that up when I realized that I dozed off while I was deciding what to do!
So off to bed for a fitful night's rest.  Our flight was scheduled to leave at 11:55am, with check-in at 9am. None of us thought we should wait until 9 to arrive at the airport.
I got up early, had a decent buffet breakfast at the hotel, and took the 7am shuttle to the airport.
The chaos at the airport was tripled from before.  Somehow, by flashing my boarding pass and US passport, I made it back through the cordon of guards, the entry scanners and into the departure terminal ticketing area.
I have never seen anything like this before.  The check-in counters are flight specific.  That is, everyone for a particular flight checks in at one counter.  However, there is very little rhyme or reason to how they organize this, inform the people, or control the crowds.
There were easily 1500 people all crowded up to a security line, most with a luggage cart piled high with bundles.  People were crammed in shoulder to shoulder.
Not knowing which counter would handle the Madang flight, I took a best guess and headed for the middle of the crowd, slowly inching my way forward little by little.
8am passes, 9am passes, 10 am passes.  Word passes through the crowd that Madang, with connection to Wewak would be handled at counter 6.  Luckily, I was close to counter 6.
Then the crowd begins to move with something like tidal forces as one group or another convinces a security guard that they need to go to one counter or another.
By this time, I have hopes of making my flight if I just bide my time.
At 11:15, I realize that this tactic won't work.  I see some of my fellow ex-pats having some success at counter 2, so I manage to get a security guards attention and convince him that I need to go to that counter.
Some of those packed in around me are helpful in letting me through to the barrier so I can cross over to counter 2. Others are grumbling and upset that I've managed to cross over, but at this point I just keep going.
A different, larger security guard stops me to ask what I'm doing but let me pass, thankfully.
At counter 2, I slowly inch my way forward as a few people are served up valuable boarding passes.   It's now well past 11:30 when I finally get to speak to an agent.  Since I have a boarding pass, she checks in one of my bags and tells me to go to the departure desk to get a seat assignment.
Fine.  I pass through security and scanners for the 3rd time and go to the departure desk.
They cannot give me a seat assignment because their computer has crashed.  So, I waited to see what would happen.
Finally, they told me to board the plane and have the flight attendant give me any open seat.
With immense gratitude, I climb aboard the very nice, air-conditioned plane, grab a seat and try to find some peace.
A short, 60 minute flight later, I land in Madang.    I spent 24 hours in Port Moresby.  Twelve of those hours were spent waiting in one line or another  at the airport. I pray I never have to go through that grinder ever again.
Arriving at Madang, I am finally (mostly) spit out of the pipe and met by Br. Jim Mungovan, Rector of St. Fidelis Seminary.  I had been texting him while in Port Moresby to keep him up to date on my flights.  A friendly face at last!
But no luggage.  I was still wearing the same clothes that I left Tulsa in.  Air Pacific had called me to let me know that they had found my luggage in Fiji, were forwarding it to Brisbane and would put it on the next available flight to Port Moresby and Madang.
I last saw my luggage in Tulsa on December 18th.  I arrived in Madang on December 22nd.
For the next several days, Br. Jim and I were assured that the bags would be on the next flight, each time to be disappointed.
Finally on December 24th, Christmas Eve, one bag arrived.  I finally had some clean clothes and my own toothbrush (I had a tiny temporary one)  after 6 days.  The second bag arrived on December 26th, 8 days after leaving Tulsa.  Miraculously, nothing was broken or missing.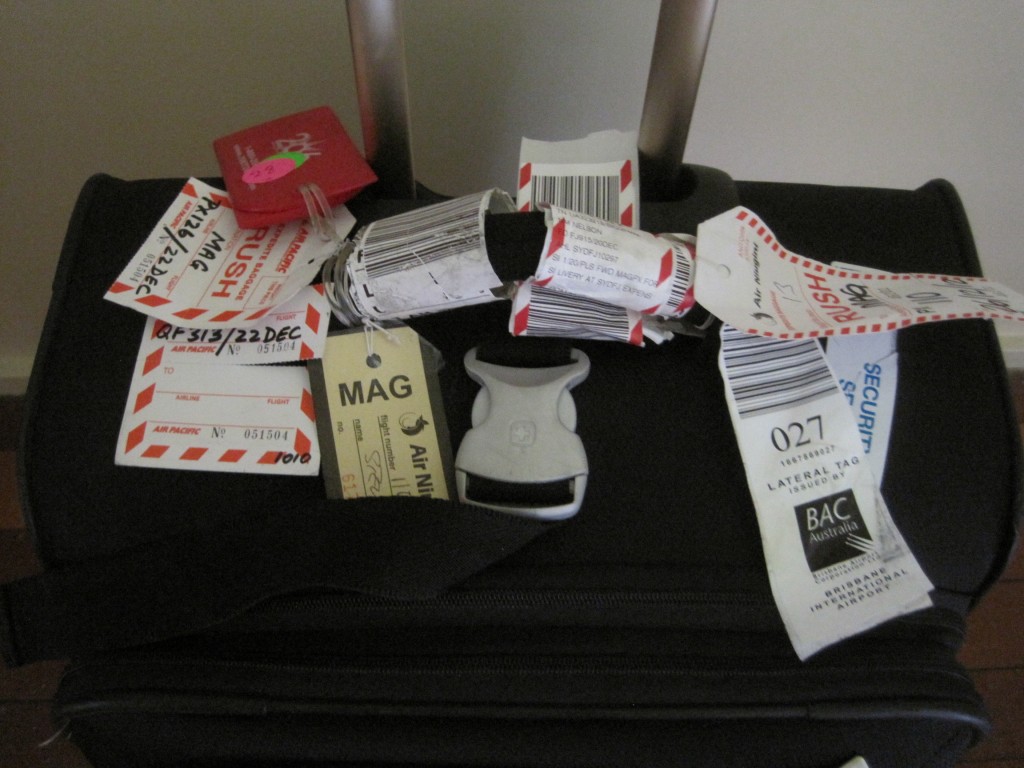 Looking positively at this, I am happy to be in Madang, happy to have traveled safely even though piled high with anxiety and frustration, and happy to have received all of my luggage.
I have a new-found aversion to any airline called "Air" – something.  But I'm sure I'll have opportunity to let them redeem themselves in the future.
And I've learned a few new lessons on what to pack in my carryon bags.   I will never assume that things will go as planned, again.
(PS:  Many thanks to the Archbishop of Madang, Steven Reichert, for allowing me the use of his satellite internet.  )