Holy Moly it's July already.  Only about 12 weeks left of summer here in Oklahoma.  Oh sure, we complain about the heat, but I know that everyone here secretly loves the heat and loathes the cold.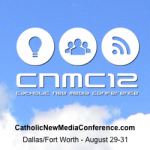 Have I mentioned the Catholic New Media Conference lately?  Plans are really coming together for our best one yet.  You should come.  Really.  Click that link and find out about it.
Independence Day was very enjoyable.  You can read about it here if you like.  Topped it off with a trip to the Tulsa Drillers minor league baseball game last night.  My brother and my good friends Jeff, Jim and Bryan were all there in spite of the 95+ degree temps.
Sainthood cause for Oklahoma's Fr. Stanley Rother has advanced a little bit.  An official relator has been appointed by the Vatican to explore the issue of his martyrdom.  I blogged about it here.  It would be a tremendous thing for Oklahoma and Guatemala if he should ever be canonized.  I hope I live to see that day.  Excitement is also building here amongst our Native American population for the canonization of Bl. Kateri Tekakwitha this October.
Squirrels.  Once again my nemeses caused damage to my house, this time chewing through the coax cables for my internet service.  Really?  They actually like that stuff? They should go get real jobs.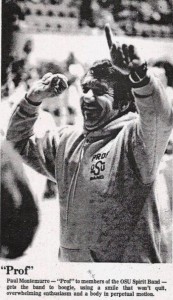 My first college band director passed away yesterday.  Paul A. Montemurro, called "Prof" by his students, was one of a kind.  Italian by ancestry, you were one moment his little "gagutz" (an endearing term we later learned means idiot), and the next the object of an emotional tirade.
Even so, you loved this bigger than life man as only true band geeks can understand.  I don't know if I would have been half as successful in college if it hadn't been the band community that formed around his bands at Oklahoma State University in the late '70s and early '80s.
Rest in peace, Prof!
Blessing and congratulations to Fr. John Grant, a former Newman Center student of mine who was ordained to the priesthood for the Diocese of Tulsa last weekend.
It was a joy to be there and to share the occasion with so many friends.
(photo source:  Diocese of Tulsa)
For more Quick Takes, visit Conversion Diary!