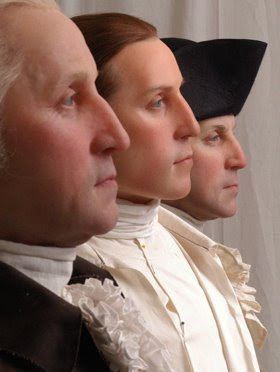 I was very lucky to spend this Independence Day with my brother Kevin, Oklahoma style.
After an All-American breakfast at the local Village Inn, we headed over to Tulsa's outstanding Gilcrease Museum for their "Spend a George to Spend The Fourth with George" event. ($1 admission)
Gilcrease is extremely fortunate to be hosting the Discover the Real George Washington: New Views from Mount Vernon traveling exhibit.  More than 100 original objects belonging to George Washington.
The exhibition is presented in 11 sections, ranging from Washington's youth to his final days. In addition to Washington's dentures, paintings, books, maps, and objects such as surveying equipment, Revolutionary War armaments, tools used by slaves, and presidential table settings are among the artifacts featured in the exhibition. Mrs. Washington is represented by original jewelry, pieces of her china, silver, and glassware, and reproductions of her gold wedding dress and purple satin slippers.

Three life-size models of George Washington were assembled from a two-year forensic study where computer scientists, art historians, 18th-century garment experts, and a forensic scientist used technology and research from primary sources to measure and analyze portraits, sculpture, and Washington's dentures and clothing. The project employed proprietary age-progression and regression techniques to create three depictions of Washington as a teenaged surveyor, commander-in-chief atop a white horse, and as the first president taking the oath of office. These lifelike wax figures, with real human hair that was implanted one strand at a time, are embedded in realistic settings – one even with animation – that re-create scenes in the woodsy Ohio Valley territory, wintry Valley Forge, and on the balcony of Federal Hall.
The three life-size models of GW were outstanding!  Truly the stuff of CSI, it was amazing to stand face to face with Washington, depicted as a 19 year old surveyor, 45 year old general and the 57 year old first president.   The photo above gives a hint of their likenesses.
You can find more photos from the exhibit here.  It was a great way to start our observance of Independence Day!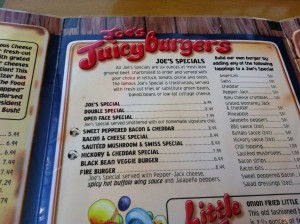 Next, Kevin and I drove over to our college alma mater – Oklahoma State University.  Our first stop in town was the famous "Eskimo Joes" – the iconic college restaurant/bar that is a must stop for anyone visiting Stillwater.
I can't count all the visits I've made to EJ's over the years and the wonderful times that I spent time with friends there.
We arrived shortly before the early closing time, but as always they were gracious and welcoming and we were served my favorites, Joe's Special Burgers and cheese fries!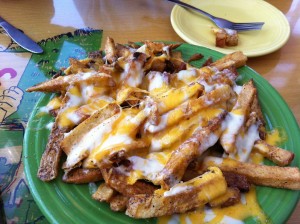 After this late lunch, it was time to wander the OSU campus and see all the new projects.  Quite a bit is going on when it comes to new construction,  including major renovations to the equally iconic Student Union.    The north side redesign has been completed, including this awesome new plaza between the Student Union and the Classroom Building.
The campus was almost completely empty as we walked around, but I could still feel the ghosts of my past and the excitements that I experienced during my time there.
Once back in Tulsa, Kevin and I watched the Independence Day celebrations from Washington and New York on TV.  This inspired us to head to Oklahoma's favorite ice cream shop – Braum's (they were inexplicably out of several flavors) and then to drive around town like crazy paparazzi, watching area fireworks displays from expressway bridges and parking lots.  We caught glimpses of the shows from Southern Hills Country Club and the city's FreedomFest show over the Arkansas River.
We topped it off by watching "Independence Day" on TV before calling it a very fun day!