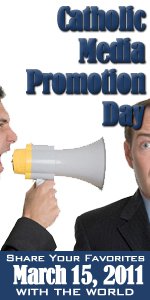 Today is the day that Catholic podcasters, bloggers, Facebookers, Tweeters, TV/radio hosts, webmasters, authors, publishers, … well everyone involved in Catholic media is helping to get the word out about what they do!
The Catholic Church is a very large entity in our world and there are many, many people who serve the call of the "new evangelization" by creating different forms of media related to their lives of faith.
You can find everything – people who are seeking answers, people who teach, people who preach, people who inform, and just plain ordinary people who share the examples of their lives with the outside world.
In honor of this first Catholic Media Promotion Day, here are esteban's personal picks!
esteban's three favorite blogs
Here are three Catholic blogs that seem to always catch my attention when there are new posts.  In no particular order …
St. Joseph Monastery Blog – written by the sisters of the St. Joseph Benedictine Monastery in Tulsa, Oklahoma.  I know several of these sisters and feel a kinship with them.  They operate the Monte Cassino middle school, which my mother attended in the late '40s when it was also a high school.
another cup of coffee – written by my good friend Maria.  What can I say? She tells it like it is and shares from the deep recesses of her soul.  I wish I knew how to be as open as she is.
Snoring Scholar – written by Sarah Reinhard.  What I really appreciate about Sarah's blog is that she seems to always remind me about the things I should be thinking about, like Lent.  Always the place to go when I need a reality check.
esteban's three favorite Catholic websites
Here are three websites that I find myself returning to often.
SQPN – I know this is an obvious choice, since I work for SQPN, but since the latest revision to the site, I have learned a great deal more about Catholic media and Catholic communicators.  As the site continues to expand, I'm sure that I will spend even more time there.
Church of St. Mary – About a year ago, the Church of St. Mary in Tulsa, where I attend Mass, hired a communication director.  Great idea!  Since that time, the parish website has been expanded with all kinds of new information, blogs and relevant up-to-date information about the parish and its activities.  It has been a really useful tool.  It may not be the best parish website in the world, but it is a great improvement and I would encourage all parish webmasters to visit this site and steal … er, borrow … some of their ideas.

Missions

– I have deep respect for the work of Catholic missions.  I've beenassociated with three different missions so far, two in Guatemala and one in Haiti.  Here are two mission websites that I visit often so I can keep abreast of the work they do.  San Lucas Mission in Guatemala, and the SOLT Kobonal Mission in Haiti.
esteban's three favorite Catholic podcasts
Oh, wow.  I'm not sure I can pick just three podcasts.  There are so many great ones to choose from, but here are three of many:
SaintCast by Paul Camarata – I've been listening to Dr. Paul almost from the beginning.  His shows are almost like short audiobooks, complete stories of saints in small morsels.  His episodes are timeless and can be listened to over and over.  I think I'll go do that right now!
iPilgrimPodcast – this is a brand new podcast, by my friend Deborah Schaben.  If you have any desire to walk the pilgrimage route along the Camino de Santiago de Compostela in Spain, you should listen to this show for all kinds of practical information.  (Disclaimer:  I've been a podsquatter on several of the latest episodes, so I guess I'm tooting my own horn a bit)
Busted Halo Cast – Fr. Dave Dwyer and his co-hosts have a great show directed towards young adults.  As a former campus minister, I have a heart for this age group and I find myself nodding along frequently with the advice he gives his listeners.  Recommend this to your college age and twenty-something friends.  I'll also throw in a plug for In Between Sundays, a show for young adults by young adults.
esteban's three favorite "other" Catholic media
I'm not exactly sure what I should put in this list, so this may seem quite random.
Anything written by Pat Gohn

– I had the privilege of getting to know Pat last year and working with her on the 2010 Catholic New Media Celebration.  Pat has shown me what good writing is truly about.  I only thought I knew how to put words down.   Her writing is masterful, artful (if I was a good writer, I would know if that is redundant or not), and with a deep texture that draws you deep into what she is saying.  Find her A Word in Season column in the Catholic portal at patheos.com.  Go. now.
Nine Days That Changed The World – this is a documentary film about (almost Blessed) Pope John Paul II's trip to Poland in June 1979.  This is a great filmabout those days and is a fascinating retrospective on the changes that followed and brought about the fall of the Soviet Union and communism in Eastern Europe.  The film is produced and narrated by Newt and Callista Gingrinch, so despite any political feelings you have about them, you should still see this film. Follow the link and watch the trailer.
iBreviary Pro Terra Sancta App – I have to be honest and say that I prefer the hardcopy four-volume books for praying the Divine Office / Liturgy of the Hours.  I guess I'm old school.  However, those books can be a bit hard to travel with and I always seem to forget to bring it when I'm away.  The iBreviary app for the iPhone and iPad are great alternatives.  I haven't been brave enough to bring it to church yet as I'm afraid it might be distracting to others or be perceived as somehow scandalous.
esteban's three "random" Catholic things
Some other random Catholic things that I like:
Visual Rosary – My friend Anthony Barber created a flash app for praying the rosary.  It has a visual representation of a rosary and as you click on a button, it will guide you through the praying of a rosary, along with meditations for the particular set of Mysteries you have selected.   I don't use it myself for praying the rosary but it's a good way to explain and teach about it to someone unfamiliar.  You can find it on the website of the St. Philip Neri Newman Center at the University of Tulsa.  Anthony is now involved with the Catholic Young Adult organization in the Diocese of Tulsa.  They have recently launched a new ministry call LivingLent.org.  It will help you stay committed to your lenten observances.

Fr. Stanley Rother

– an Oklahoma diocesan priest who served many years as the pastor of the Oklahoma Mission in Santiago Atitlan Guatemala.  A cause for canonization for Fr. Rother was opened a couple of years ago.  Fr. Rother was murdered in his rectory by paramilitary agents of the then Guatemalan military regime.  I have a deep connection to Fr. Rother and his cause because of my relationship with the Catholic missions there and because his is Oklahoman.    Here are a few links where you can learn about Fr. Rother.
Catholic Volunteer Network – as a campus minister, I had several opportunities to work with graduating students looking to do domestic and international volunteering.  CNVS is a very helpful organization that helps match volunteer organizations with interested people.  If you know anyone who might want to do mission work, have them fill out a profile on cnvs.org and start discerning.
esteban's other projects
As we come to the end of this long post, let me briefly tell you about the projects that I'm involved with.  In addition to all the good things going on over at sqpn.com …
everythingesteban.com – I write this blog whenever something appeals to me.  It might be directly related to Catholicism, or life in Oklahoma, or mission work, or …   When this particular post is released, I will be spending a week working at the SOLT Kobonal Mission in Haiti.  I intend to post articles, podcasts, photos and video about the trip.  So check back here is you're interested.
tulsacatholic.com – this is a website that I maintain on a weekly basis with news and events of interest to the Catholics in the Diocese of Tulsa.  I subscribe electronically to the bulletins from our largest parishes and collate the information that may be interesting to a wider diocesan audience.
OntheU.com – this is the website of my "it's not completely dead, it's only mostly dead" podcast about Catholic college life.   There's some good stuff there in the archives and I hope to someday revive it more fully.

Podsquatter

– You can find me as a guest from time to time on other podcasts, such as iPilgrim Podcast, Catholic Weekend, and the Secrets of Star Trek.
Thank you for checking out my contribution to Catholic Media Promotion Day!  To reach the posts of other Catholic Communicators participating in this effort, jump on over to the  Facebook page for this.