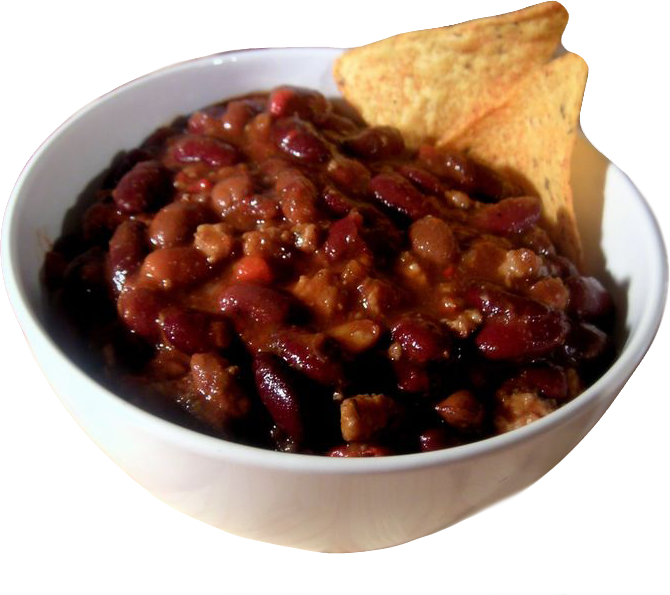 I think I make a pretty good pot of chili.  Others seem to like it too, so I thought this was as good a place as any to post my recipe.
So for you, dear reader, and posterity, here it is.
Get this stuff:
2 lbs of lean, ground beef
2 can of Ranch Style beans (un-drained)
1 can of black beans (drained)
1 can of pinto beans (drained)
1 can of Rotel tomatoes with green chilies
2 cans of tomato soup (concentrate)
1/2 cup of diced green pepper (red or yellow peppers are good too)
1/2 cup of diced onion
4 tbls of chili powder
1/4 tsp of red pepper powder
1/4 tsp of cumin
1/2 tsp of black pepper
1/2 tsp of salt
Worcestershire sauce
Do this:
1.  Brown the beef in a skillet.  Add a few dashes of Worcestershire sauce, to taste.  Drain the meat well and add to a large pot.
2. Add all the other ingredients, draining all the beans except the Ranch Style beans.
3.  Mix well and simmer over medium heat.  Do not overcook!
I prefer to use a pot on the stove top rather than a crock pot.  I prefer my chili with less liquid in it.
I also like to prepare it a day or two in advance to let the flavor of the spices permeate.
For a little more of a kick, add more red pepper.  I often add some garlic powder as well.
Chili Out!
So, go forth and chili out.  If you try this recipe, let me know what you think.